The Wheat of the Future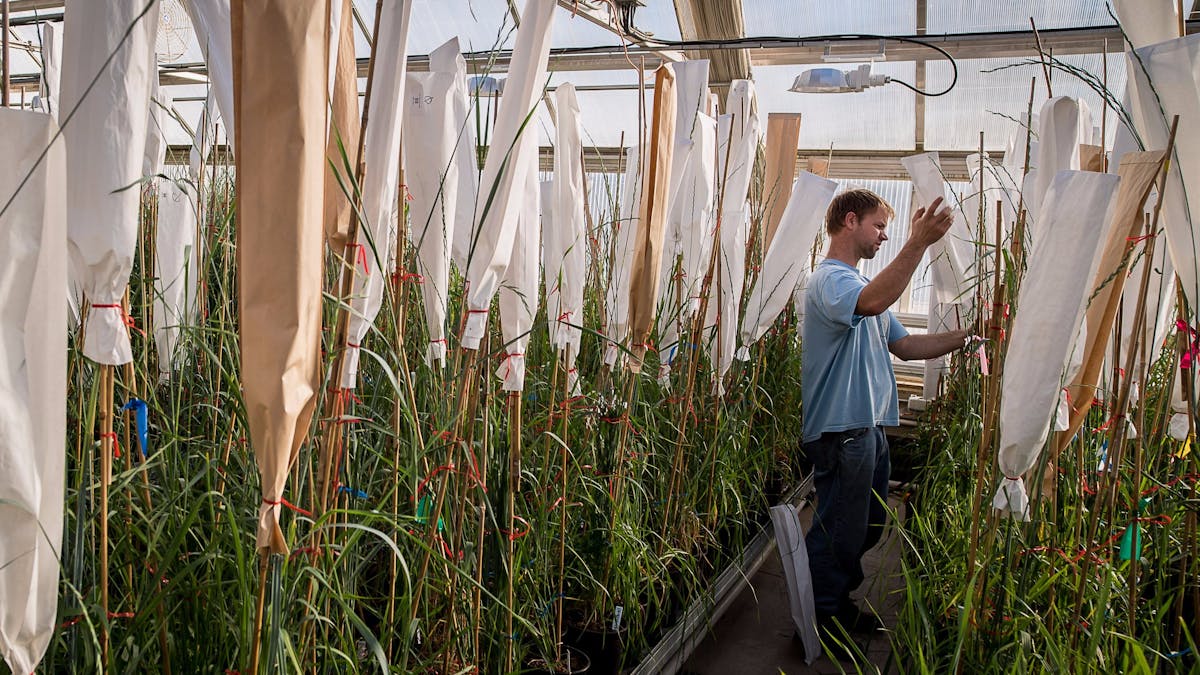 December 9, 2015
No, it's not from outer space. It's growing right here in Minnesota, thanks to the dedicated efforts of University in MN food scientists, a non-profit research center in Kansas, and chefs (like our own Chef Marshall!) who are creatively exploring the possibilities of an ingredient most of us have never tasted.
It goes by the name of "Kernza," and you can try it on our "Beans & Rice" dish (served at Breakfast and Weekend Brunch) that comes with Kernza flour tortillas. It has a nutty, earthy flavor and delivers higher levels of folate, calcium, lutein, fiber, Omega-3 fatty acids, selenium AND vitamin B-6 than whole wheat—how's that for healthy?
Photo of a Minnesota Kernza field by Carmen Fernholz
Technically, Kernza is an "intermediate wheatgrass," but it's very different from the wheat most of us eat every day. Wheat crops are annuals that require replanting each year, whereas Kernza is a perennial and grows year after year without replanting. As a perennial crop, Kernza plants establish extensive root systems that can tap into the soil's water supply much deeper than annual plants—helping farmers conserve water during the growing season. Kernza's deep roots can also help control soil erosion and reduce water runoff. And unlike annuals, which deplete soil's organic matter and require greater inputs like pesticides and fertilizer, Kernza grows in greater harmony with its surrounding ecosystem, coexisting well with native plant species.
So it plays well with others, saves water, is full of vitamins AND tastes good—why aren't we all cooking with Kernza? Well, there's still a lot of research to be done. That's happening in a few places, and one of them is right out our back door. At the University of Minnesota (UofM)'s agronomy department in St. Paul, scientists are working to improve Kernza's crop yields and determine the best ways to plant and harvest it. They were invited to do this work by the folks at The Land Institute in Salina, Kansas, who first developed the plant (and trademarked its name) and had picked up the torch from The Rodale Institute in Pennsylvania. The Rodale researchers looked at 100 different perennial grasses and identified intermediate wheatgrass, with its relatively big seeds and reputation for hardiness, as the best bet to turn into a food crop. All this research history means that Kernza is well on its way to becoming available at your local specialty grocer, but in the meantime, at least you can try it out at the cafe!
Kernza in test kitchens across the U.S.
The Birchwood was lucky enough to be chosen by the UofM to experiment with whole grain Kernza on our menu, just two short years ago. This year, Chef Marshall was happy to take on the challenge of testing out a new, locally milled Kernza flour (our kitchen and bakery is already well-versed in using alternatives like brown rice, tapioca, and garbanzo bean flours in our gluten-free bread, pizza crust, and savory waffle mixes). Ultimately, we found that Kernza was the perfect accent to the all-day, every-day favorite, the Savory Waffle (especially fitting since we been saying that our cafe is on a mission to change the food system, one Savory Waffle at time, so I think we're on the right path!). You'll also see a reference to Kernza in the brand-new Birchwood Cafe Cookbook—it would be our go-to for the Cinnamon Apple Farro Pancakes—but since Kernza is still in development and not yet widely available, we suggest substituting farro, barley, or brown rice in this recipe (until we can ALL use Kernza at home!).
Another creative chef based in Brooklyn, New York, named Zachary Golpher is experimenting with Kernza. He runs the Bien Cuit bakery, celebrated as one of the best bakeries in New York, and believes that the more good bread out there, the better; that changing tastes helps drive the demand for better farming and better food choices overall. We're collaborating with Zach this season, starting with the appearance of Bien Cuit's Cherokee Biscuits in our Weekend Brunch menu's Benedict Special and individually in our Bakery Case (while they last!). We look forward to seeing what Zach comes up with for baking with Kernza, and in the meantime, we'll keep you posted on how his recipes for the new grain, and ours, develop.
Yet another innumerable measure
We talk about the "innumerable measures that bring us this food" and clearly it's about more than farmers and chefs—scientists, universities, and researchers also play a significant role in changing our food system for the better. Together, they're working to partner with more farmers in the upper Midwest who are interested in planting intermediate wheatgrass. Once yields reach a certain level they'll have an easier time finding local grain processors who can properly de-hull and store the kernels, and be able to provide our cafe (and someday YOU!) with more opportunities to cook even closer to the way nature intended.
With love & gratitude,
Tracy & the Birchwood Cafe crew