Spring has Sprung!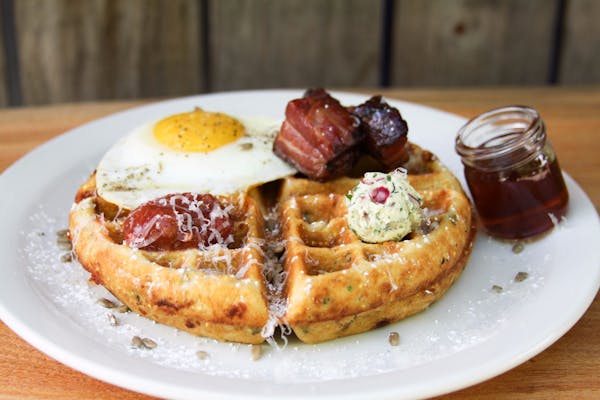 May 13, 2016
Nice Ride bikes are out, our boulevard is blooming, and the neighborhood is a-buzz! Fuel your bargain-hunting (Seward's Garage Sale Days are today and tomorrow!) and biking adventures with some Good Real Food AND taste the flavors we've been waiting all winter to savor: We've got asparagus, rhubarb, ramps, fiddlehead ferns, and more in store for you — plus, plenty of Peace Coffee, sweet treats, and lilac lemonade, too!
This Saturday and Sunday we're hosting our annual Riverbend Farm Plant Salefrom 10am to 3pm (both days). We'll be set up across the street from the cafe with Farmer Greg Reynolds from Riverbend Farm (Delano, MN) and Farmer Mette Nielsen from Birchwood Cafe's backyard garden (and also the photographer for our Good Real Food Cookbook!) They'll have heirloom and locally adapted varieties of tomatoes, peppers, eggplant, lettuce, kale, onions & herbs for sale — complete with handy tips and know-how that will have you harvesting your very own local organic bounty this summer! Best of all, a portion of this plant sale's proceeds will go to our Birchwood Boost parter Right to Know Minnesota!
Catch folks from Right to Know MN at the cafe this coming Sunday and Monday. They'll have details on current legislative efforts (for the latest, check out their Facebook page) and more on what YOU can do to advance the mandatory labeling of foods produced with genetic engineering (GMOs) in our state. Plus, we have two more Boost events coming up in the next month that you won't want to miss — including the next BOOSTer Club Dinner featuring in-season wild Alaskan salmon from the Copper River Watershed!
Happy Spring!
Tracy & the Birchwood Cafe crew
P.S. Woody loved his Waffle! Slow Money founder Woody Tasch came to town recently to help launch Slow Money Minnesota's "Grow a Farmer" Fund, set up by our local Slow Money Minnesota group being led by our friends at Renewing the Countryside and the Southern Minnesota Initiative Foundation. At the Birchwood, we hope this fund will catalyze more people to reconsider traditional investment models by investing directly in our own communities and supporting the small farmers who grow our food in ways that respect and care for people, animals and the planet. You, too, can become a founding investor! Any donation amount is welcome!