Sowing Hope, Reaping Resistance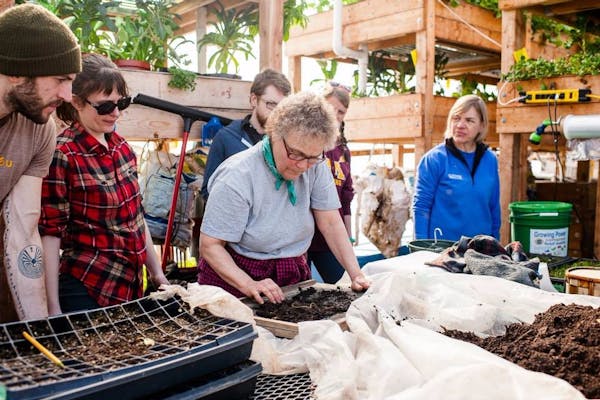 January 3, 2017
"We must accept finite disappointment, but never lose infinite hope." We are taking Martin Luther King Jr.'s words to heart. Amidst all the violence, pain, global suffering and loss of this past year, we find infinite hope in the truth that food connects us all.
In 2016, we launched our Birchwood BOOST community partner program to collaborate with values-aligned local non-profits, share their mission with a broader audience and highlight the myriad of ways that working toward a fair and healthy food system will also address many critical issues we face today. In our pilot year, BOOST cultivated countless connections, inspired meaningful engagement, and raised over $40,000 to boost the work of Climate Generation, Right to Know MN, Urban Roots, Land Stewardship Project, Neighborhoods Organizing for Change, Standing Rockand Black Lives Matter. In essence, we raised awareness, financial resources and, fostered a culture of service with opportunities for people to plug in and "be the change" for greater social justice, racial equity, environmental stewardship, climate change awareness, food justice, democracy and protection of human rights.
One of the hardest parts in accepting the "finite disappointment" of the election is knowing that Trump, via his xenophobic, homophobic, misogynistic, racist, sexist, discriminatory agenda, will seek to undo any and all good work by good people. But Birchwood BOOST will not be deterred! We're eternally grateful to all our 2016 BOOST partners, as well as to you, our generous community! Together you've given us inspiration, hope and, most importantly, the resolve to resist.
In this spirit of resistance and hope for a just world, we announce our first BOOST partner of 2017, the Women's Environmental Institute! WEI's mission is to promote agricultural, food and environmental justice. WEI is led by Karen Clark and Jacquelyn Zita. Together they are educators, legislators, changemakers, farmers, researchers, advocates and true revolutionaries who have been resisting the prevailing corporate controlled food system and all it's systemic ills for much longer than our 21 years. With a focus on empowering women, children and our most marginalized communities (immigrants, Native Americans and people of color) we can think of no better organization to lead our resistance into New Year and into Trump's new administration.
WEI believes, and we do too, that fresh healthy food is a human right for all and they address the challenge of access in a multitude of ways. Their beautiful farmhouse and acreage in North Branch, Minnesota provides a retreat from the fast paced, hyper connected world via instant immersion into the world of organic farming. Through hands-on farmer training, folk school classes, college-level adult education, health education, youth classes and public forums, WEI provides plenty of accessible, affordable, approachable, and effective ways to farm – in both urban and rural areas.
WEI is also an organizing hub for environmental justice research, advocacy and community empowerment. A Regional Outreach Training Center for Growing Power since 2010, they channel the philosophy and techniques of Growing Power founder & CEO, Will Allen who says "you can't have healthy community without healthy food". According to Will, if we can "create an environment in which people feel secure and have easy access to healthy food, you can give people hope for a better life." WEI works toward this goal both in North Branch, and through their urban farming projects (Mashkiikii Gitigan and Little Earth of United Tribes Farm). They are also growing a coalition of small, rural organic farms through the North Circle Project to help small, sustainable farms start up and succeed. Much of their research and advocacy work is focused on environmental justice for low-income communities, Native Americans and communities of color, as these populations most often suffer a disproportionate exposure to environmental toxins. All BOOST funds will all go to the WEI scholarship fund, which insures that everyone who wants to can learn how to grow organic food and organize for justice no matter their income.
At the heart of WEI lies another truth that gives us hope: Food is medicine. Food has the power to nourish and heal. Eating with others fosters a sense of community and collaboration that unites and empowers. Growing our own food connects us to nature and to ourselves. And now, we are entering an era where knowing and intentionally choosing where your food comes from a revolutionary act! Trump can eat all the Taco Bell and KFC he wants, he can subsidize industrial agriculture and pave the way for more genetically engineered foods but he cannot tell us what to eat and he cannot come and take our carrots out of our yards! No more than he can take the love and hope from our hearts or the resolve from our souls to defend our health, our communities, our planet and our Savory Waffle!
No one, not even the President elect himself, really knows what will happen when he takes the White House. And despite this uncertainty we remain hopeful that you will join our resistance! We all have the power to be the change we want to see. Whether you grow your own food, buy from local farmers, or simply become aware of your consumption know that know that your actions matter. Resolve to join us for a Crop Mob this summer or a Booster Club event. You give us hope, and the more hope we sow the more resistance we can reap!
For 2017, we resolve to keep welcoming everyone with open arms and open hearts. We resolve to stand up, resist hate and choose love at every opportunity. We resolve to continue to lift the veil, explore our privilege and hold the vision where all our movements and causes for GOOD converge and unite under one goal for a just world. And we resolve keep on serving Good Real Food.
Wishing a very hopeful New Year to you all!
With love and gratitude, Tracy and the Birchwood Cafe crew