Help us feed The Food Group!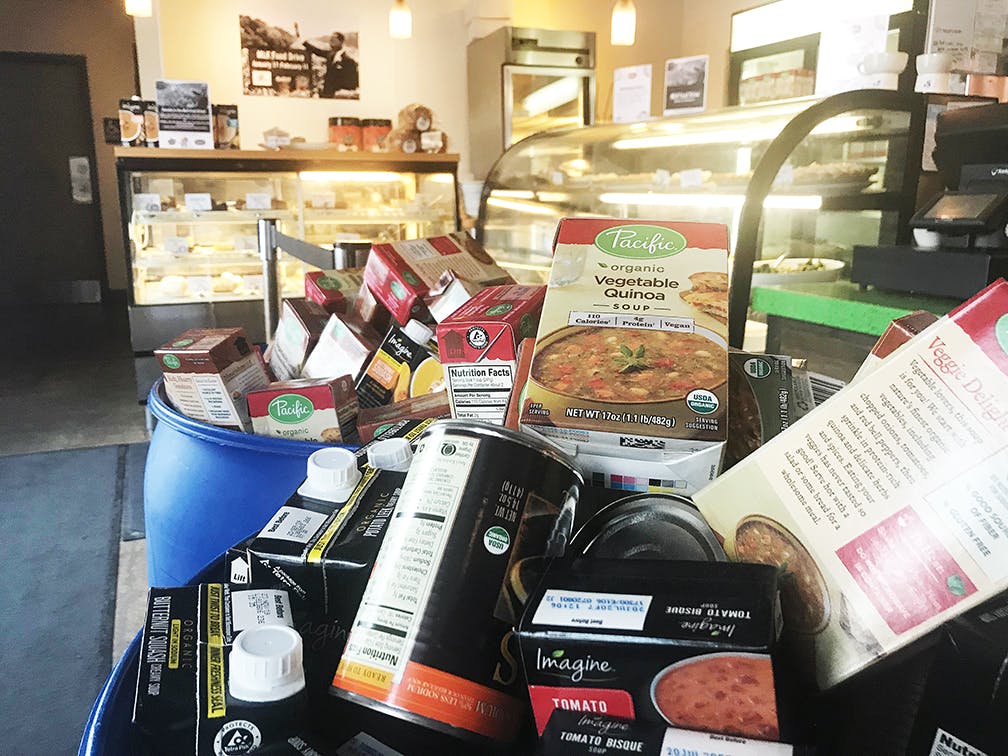 "Secure your own mask first before assisting others" said every flight attendant, ever!
And that's a wrap on our 4th week of cafe service in the new COVID-19 world. We've settled into a good curbside + delivery groove. We have a good way to care for our staff at home. And we're keeping us all connected to our farmers and each other by continuing to serve good real food — and YES, the Riverbend Farm Plant Sales will go on, look for details soon! Of course none of the above would have been possible if not for your ongoing love and support. On Monday March 16th our world came to a screeching halt and YOU have been the gravitational pull that has, quite literally, kept our world spinning 'round.
Last we Governor Walz extended the Stay Home MN executive order through May 4th. Now that we've finally caught our breath from the initial shock of shutting down we can reopen our hearts and minds to what we love and what we do best: COMMUNITY.
Though our lives here at the cafe have been turned upside down, we recognize the privilege we all have of homes to shelter in and enough food to eat. Today, the need for emergency food in our community is escalating by the hour and we are so grateful for our real life food hero friends at The Food Group — our annual Martin Luther King Drive partners — who continue to work tirelessly to feed those who need it most in the face of unprecedented pressure and heightened challenges.
What we appreciate most about the Food Group is their focus on equity and healthy nutrition in the broadest sense. Not only do they take care to know that the people they serve have access to fresh food grown in a way that supports community health for all, they also partner with Big River Farms to offer organic and sustainable agriculture education for farmers who have historically been underrepresented in farm ownership, including immigrants, people of color, and refugees. The Food Group strengthens community by building a more sustainable and just food system, a vision we share wholeheartedly here at the cafe.
Since we can't host a food drive in real life cuz, you know, social distancing and COVID-19, we are hosting a virtual drive for financial support with a goal to raise $5000 by the end of the month, and for every $25 you donate, we will email you a promo code for $5 off your next curbside pickup or delivery purchase of $25 or more. $25 provides 50 meals for people most affected by the COVID-19 crisis. This offer and our drive runs through April. Please, if you have the means, GIVE, and please share! https://www.givemn.org/story/Birchwood
Speaking of masks —Tracy has teamed up with close friend and acclaimed Minneapolis-based fashion designer Joy Teiken of Joynoëlle, to provide reusable face masks to the public. We offer them with the ask that we all exercise patience with our hearing impaired friends who rely on lip reading and also be aware of the challenges that mask recommendations present for people of color. Masks are available along with all our other offerings for curbside pickup & delivery, with 100% of proceeds from sales going to supplement our online Food Drive Fundraiser for The Food Group.
With Love + Gratitude,
Tracy, Marshall + our Mighty Curbside Crew