Mother's Day Weekend + Ladyfern Tulip Bouquets + Riverbend Farm Organic Plant Sales!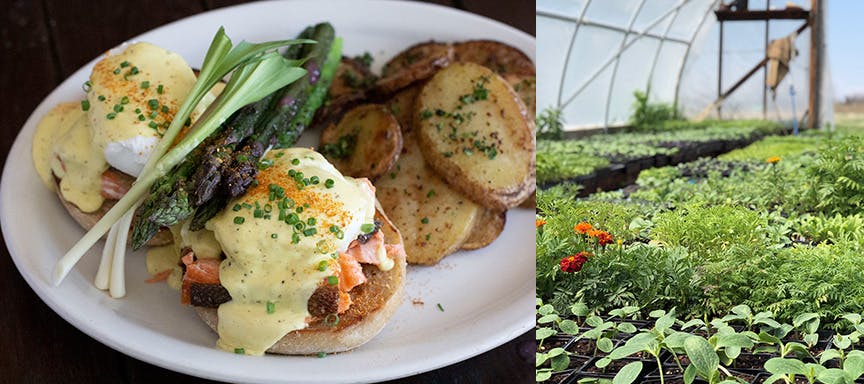 We LOVE You Mom!

COVID19 has altered so much in our lives but it will take more than a global pandemic to stop Spring's bounty from springing — our Annual Mother's Day Weekend Brunch and Riverbend Farm Plant Sales are on! This weekend, to honor Mom, we're expanding both Saturday and Sunday brunch hours and will be serving brunch from the curb from 8am-2pm!

Mom's Day Menu Highlights

Savory Waffle
Asparagus, millet + parmesan waffle with rhubarb jalapeño marmalade, radish butter, sunny egg, bacon lardons + maple syrup. GF option too!

Mom's Benedict
Seared Wild Alaskan Salmon OR Fisher Farms Ham Benedict, asparagus, pickled ramps, tangelo chive hollandaise, two poached eggs, Birchwood English muffin

Avocado Toast
Guacamole (avocado, red onion, jalapeno, cilantro, salt, black pepper), Happy Fish watercress, radish, pickled peppers, lime, cracked pepper, sesame seeds, sunny egg

Hazelnut Fennel Solar Honey Latte made with Bare Honey

Rhubarb Fennel MOMosa
NA option too!

— and, just because we love Mom so much —
Birchwood Cinnamon Rolls!

Peruse our menu and place your order for Mother's Day Brunch here!

New this year, we've partnered with Ladyfern Flowers to offer you fresh picked, local, sustainably grown bouquets to delight Mom on her special day. Tulip bouquets include 10 stems, mixed colors + variety for $15. Add to your Mom's Day weekend brunch pickup on Saturday + Sunday, May 9th + May 10th from 8am-2pm. Quantities are limited!
Moms LOVE Brunch AND Riverbend Farm organic starter plants and they will LOVE the abundant selection of locally adapted vegetables, flowers and herbs Farmers Mary and Greg Reynolds have curated for us this year.
Peruse Plant Sale info here!

Plants purchased for Mother's Day Weekend must be ordered by Wednesday, May 7th at 6pm.
Plants purchased for the following weekend, Saturday May 16th and Sunday May 17th
must be ordered by Wednesday, May 13th at 6pm.
Pick up time for both weekends is 10am-2pm