Healthy Meals, Happy Kids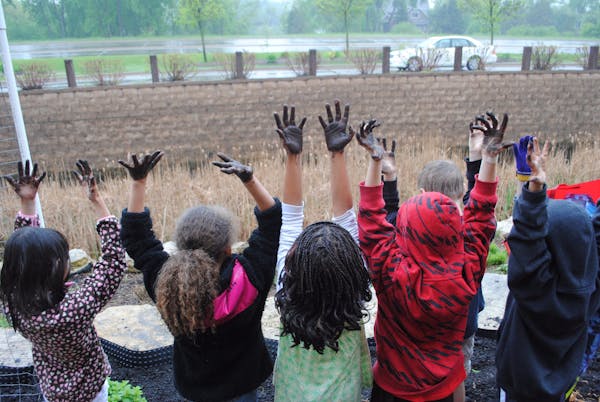 July 6, 2017
"What in the world is THAT?" asks young Sawyer, ogling a bright orange vegetable with green leaves sticking out its top. "It's a carrot!" responds Uli, educator at Midwest Food Connection. "I thought those were tiny stubs that come out of plastic bags in the cafeteria," says Sawyer with wonder. Uli brushes the dirt off the carrot, takes a bite, and hands it to Sawyer to do the same. He hesitantly tries it, and brightens up as he chews and swallows. "That's so sweet and delicious!"
Encouraging children to experience the miracle of a garden is an impactful opportunity to establish healthy relationships with food. These days, almost one in five school-aged children is obese and "picky-eater" syndrome characterizes almost one in three. Across the country, there are thousands of kids who have never seen a vegetable growing, who would always choose a gummy-bear over a sun-ripened strawberry and who have no idea that beef comes from cows. The impacts of this lack of food education extend from personal health and social discrimination to environmental degradation and economic inequality. Thankfully, solutions exist.
From July–September, Birchwood BOOST is partnering with Midwest Food Connection (MFC) to empower children to make healthy decisions around food. MFC brings real food into classrooms, providing a chance for kids to share stories, plant seeds, cook across cultures, and taste delicious recipes. This fun and approachable way for children to understand where food comes from and how it impacts our bodies, our communities and our earth is a vital part of early childhood education.
Midwest Food Connection works with elementary and middle school classrooms to teach about healthy eating, local foods, and sustainable agriculture. They provide children with opportunities to taste food in classrooms and gardens, and create a broader cultural understanding of food through art, science and storytelling. Each year, they provide culinary and garden adventures to thousands of children, and we are thrilled to support programming for thousands more. We are so grateful to work toward a world where every child understands and appreciates the miracle of a garden, and has a healthy, happy life fueled by Good Real Food.
With love and gratitude, the Birchwood Cafe crew