Back to the Future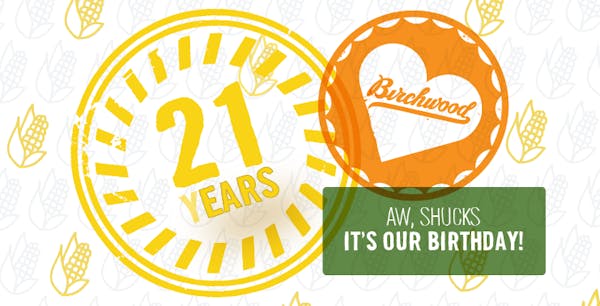 Aw, Shucks! And now we're Twenty-One yEARS old. Thank you so much for your continued patronage and support of Good Real Food. Not a single day goes by that we don't pause in gratitude for the innumerable measures that bring us this food and comprise our community. Farmers, chefs, brewers & bakers, servers, dishwashers, and artisan cheese makers....and YOU, our wonderful customers! Now THAT's something to celebrate!
And celebrate we did! Here's Jimmy and Greg, grilling corn and grinning ear to ear!
Thank you to everyone who came to our 21st Birthday Party on Saturday for corn, cupcakes and community.
It was aMAIZEing!
Reflecting on our ever evolving path to adulthood we have realized that it's time to simplify. When we reopened after our remodel in 2014 we felt the need to to be all things to all people. Only nineteen years old, we were still figuring out who we really were and, with youthful exuberance, we wanted to test the limits of our new cafe. We reopened with new menu items, new napkins, new silverware, and a new service style at night. But now that we're all grown up we've come to realize that what people really want is for us to be who we are, to be Birchwood. For us that means one style of service all day all the time.
We are pleased to share that starting tonight, Monday September 19th, we are returning to our roots by returning to counter service at dinner. That said, we're not going back to our counter service of 1995 when "We Cook it You Bus it" was the norm. Oh no. Starting today we're going "Back to the Future" with Birchwood 3.0!
Birchwood 3.0 reflects the evolution of our counter service of old to a new Cafe Service of our future. Just like breakfast, lunch and brunch, you'll order and pay at the counter, get a table number, find a seat and we'll bring your food out when it's ready. AND, you'll still get service at your table. For real. We're putting more people on the floor to make sure that you're taken care of ALL THE TIME. Whether you're chatting with friends and neighbors in line and want a local beer or fresh lemonade while you wait or seated at your table and have a hankering for a piece of our Key Lime pie; we'll be there to get it for you. We will continue to make sure you can find a seat and we'll continue to take reservations for parties of 8 or more and offer table service for private dining events in our community room. And though we've already made the switch from white linen to compostable paper napkins, rest assured we are keeping the new silverware! Birchwood's new and improved Cafe Service is all about offering the same friendly, warm, welcoming Birchwood experience you've come to know and love all these years, at all times of the day. At Twenty-One, our exuberance, though still youthful, has matured and Birchwood 3.0 is about better service, not less. We look forward to serving you Good Real Food, Birchwood Cafe style, now and for Twenty-One more years to come!
With love and gratitude, Tracy & the Birchwood Crew