An update from Tracy on the state of the Birchwood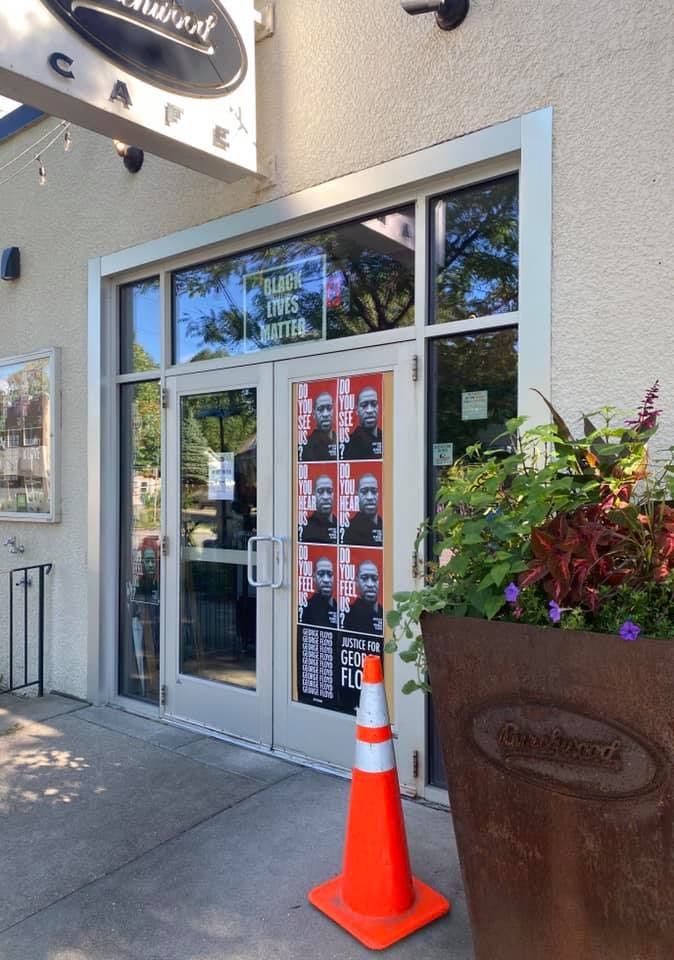 Dear Birchwood friends and family,
Our front door was smashed in again last week, so we've been channeling our local farmers — practicing both resilience and gratitude that it wasn't something worse. We couldn't let a million tiny shards of glass keep us from prepping the new Scorch menu items for this week — hello Heirloom Tomato Salad, Sweet Corn Savory Waffle and of course, our famous BLT!
The upside of a three-times-in-as-many-months-glass-storefront-break-in is that the custom plywood door insert that your handy person crafted and convinced you to keep after break in number one – the insert that you covered with local poster art – gets to show itself again, remind us what's important and what Good Real Food is all about. They say third time's the charm, right?
It's been four and a half months since we shuttered our dining room for COVID19. Though your purchases of our Community Supported Restaurant Shares and curbside take out, combined with eight weeks of a PPP loan, have kept us afloat so far, the truth is, the Birchwood is not doing OK. Where Summer is typically our busiest time of year, our "harvest" when we reap a modest surplus to store for the winter ahead, this summer's sales are down 75% over last year and we are losing money everyday to the tune of a $400k loss since COVID19 hit back in March. This Summer there is no bustling patio, no weddings to cater, no State Fair and therefore no surplus to store. Not to mention the extra costs for single use compostable take out containers, sanitizers, masks and gloves. PPP did not cover any of these. We are struggling to see a clear path to Spring.
We've watched our trusted colleagues open patios —some even welcoming guests to dine indoors — and we've seen many shut down due to a positive COVID test and some of our friends have closed their restaurants for good. Pre-COVID19, we'd celebrate the patio opening having yearned to eat on our blooming boulevard all winter long, and we'd have hired even more staff. Now, our options are to either pare down operations even more, or find some way to increase our sales.
On the paring down side, we are considering closing on Wednesdays, discontinuing lunch and possibly even brunch. Not only does this mean no more cinnamon rolls, but any labor savings that we gain will come at the cost of laying more people off — real people who are part of our family, real people with kids and families of their own.
As for increasing sales, we understand the novelty of curbside has waned with other options out there for "eating out", and driving across town for food can be a pain. We've signed up for DoorDash and soon you can have Good Real Food delivered to you! Another option we've started discussing is to put a few tables on our patio, spread out for safety and social distance, with contact-less ordering and food delivery. Basically, al fresco dining but no real service in the pre-Covid19 sense of the word.
I think of all the times I've heard "oh it must be so fun to own your own restaurant", but living in this untenable tension between Birchwood Cafe's viability and community health and staff safety is not my definition of fun, it is however, the real life experience of restaurant leadership during COVID19. I am so grateful for our small but mighty team who are in this with me.
While we all know that COVID19 isn't going away any time soon, what some of you might not know is that if something doesn't change and we can't find relief, we might be forced to join the over 16,000 independent restaurants who have closed their doors for good.
If you are reading this, I know you're wondering what you can do to help. Here are some ideas:
Take Out. If you value our local, sustainable sourcing, our support for local farmers, our tasty Good Real Food and our commitment to equity and racial justice within the cafe and the greater community, please consider spending your discretionary dining dollars with us. And tell all your neighbors and friends! We're so close to the river and the bordering grassy boulevard along east River Road and Seabury Avenue make for a most perfect picnic.
Take Action. Though your orders for Take Out are keeping the cafe alive today, I'm also asking that you Take Action because we want to be here for your tomorrows. Please visit the Independent Restaurant Coalition website at saverestaurants.com to sign and click, I promise it's quick. Tell Congress to pass the Save Restaurants Act today! The Restaurants Act is a grant program focused specifically on independent restaurants. Though I wish it had more worker protections and any sort of equity and anti-racism training requirements for restaurants who apply, I support it knowing that there is a wide network of restaurant owners committed to change and these funds will help us survive so we can do the critical work necessary. Birchwood Cafe would be eligible to apply and our grant amount would take into account the non-forgivable portion of our PPP loan.
The first 14 days of funds will only be made available to restaurants with annual revenues of $1.5 million or less to target local small restaurants, particularly those that are women-, veteran-, or minority-owned and operated eligible entities; and provides $300 million to administer the program – $60 million of which is set-aside for outreach to traditionally marginalized and underrepresented communities.
CSR. Our Community Supported Restaurant shares are still available for purchase. To learn more, click HERE.
We'd LOVE to hear from you! Is there something you'd like to see on our menu? Do you miss the prepared meals you could heat at home? If we had socially distanced tables on our patio would you sit there? Your feedback is important to us, please share your thoughts with us by emailing marketing@birchwoodcafe.com.

Hope is work and we aren't giving up on the Birchwood Cafe or our downtown restaurant project in partnership with Minnesota Farmers Union. There's so much we want to do to make our industry better and more equitable for all — for our farmers, our workers, and for everyone in our community. As a white owned business, real awareness of our complicity in systemic inequities took root with the 2014 murder of Mike Brown by a police officer in Ferguson, MO and our awareness has grown steadily since. We are committed and actively doing work as a team so we can be the change toward dismantling system oppression, starting within the cafe and rippling out to our community. Just as our consciousness evolves, so does our definition of Good Real Food.
With love, gratitude + hope,
Tracy + the Birchwood Cafe Crew