A Word from Urban Roots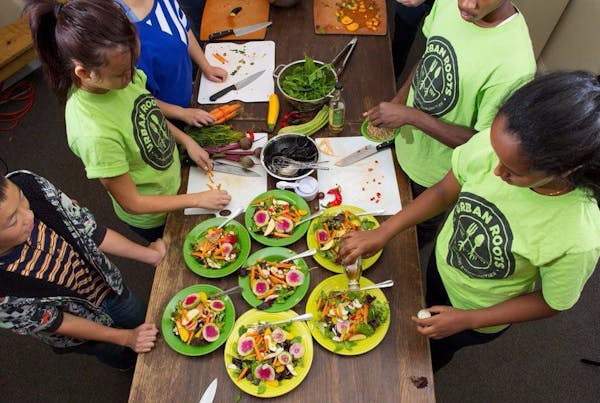 June 17, 2016 | by Summer Badawi, Market Garden Program Manager, Urban Roots
Last summer, Tracy Singleton, the owner of the Birchwood Cafe, took a tour of Urban Roots to learn about our programs and get a first hand look of the work of our youth interns in the Cook Fresh, Market Garden and Conservation programs.
The Cook Fresh youth were preparing a fresh summer salad using hand-picked herbs and beans from our garden when she came by. The garden crew was in the middle of a bountiful beet harvest when Tracy visited our Dellwood Gardens Assisted Living Home growing site. She chatted with interns about their work at Urban Roots, the challenges and rewards of gardening, food preparation techniques they have learned, and how their experiences help them make more positive food choices for themselves and their families and peers. She also learned about the Conservation Bike Crew that performs restoration work at nature sanctuaries and public parks in East St Paul. After a healthy dose of the Urban Roots experience, Tracy joined us at our Annual Fundraiser in June and spoke about her connections in these areas, shared the story of her own journey, and her experience as an entrepreneur with the Birchwood. Tracy made it clear she's a big fan of exposing kids to new ideas and opportunities, something we really believe in here. We see amazing things every day.
We are excited to collaborate with the Birchwood Cafe for the best of the summer months as a partner in the Birchwood Boost program! We are enjoying connecting with new audiences and giving them info to engage with our organization.
At one tabling event at the cafe, the Urban Roots Conservation Crew sat at an info table in the Cafe during breakfast and interacted with a hungry crowd that was excited to hear about Urban Roots and sample our Huckleberry Jam with Birchwood's homemade bread. Conservation Program Manager and Youth crew members had fun chatting with customers who were excited about our programs and very ready to BOOST by rounding up at the register.
During another tabling event we held a veggie plant sale and planted a crop demonstration box that can be seen along the sidewalk beds next to the Birchwood Café. We selected some of our favorite crops for the planter box AND crops that will be featured in our BOOSTer Club Dinner on July 28th! This dinner will combine heartland crops with Southeast Asian flavors brought to you by Chef Marshall Paulsen of Birchwood Cafe, Chef Yia Vang of Union Kitchen and Daniel Klein & Mirra Fine of Perennial Plate. They'll be using produce grown by our youth interns and we know it will be delicious!
Tracy believes food connects us all, and we wholeheartedly agree. The theme of this dinner will be how cultures can connect through food. Many of our interns are first and second generation immigrants, so this is something we talk about regularly at Urban Roots.
We'll also be back at the Birchwood for a tabling event that will feature a pop-up mini market stand with some of our amazing spring lettuce heads over the lunch hour on June 24th . On July 7th we'll be around for dinner sampling our jams once again for those that missed us at breakfast earlier this month!
We want the Birchwood community to know that we're grateful for their interest and generosity. We host a lot of tours and volunteer groups and would be thrilled if some of you wanted to get involved with our organization! We will be debuting our new outdoor pizza oven in July and will be hosting pop-up garden dinners. Please join our email list so we can keep you posted!
More info at www.urbanrootsmn.org